If you really think about it, a Wi-Fi router is one of the most important devices in your home. It provides a connection to the internet for almost all of your devices and connects everything in your home together. From streaming 4K Netflix movies in the living room, allowing you to work from home, or dominating other players in the latest video games – it plays a bigger role than you think.
Not to mention you're probably using a basic router that your internet service provider sent you years ago. If you are, there's a very good chance it totally sucks and upgrading it will instantly improve your entire home Wi-Fi network.
A Wi-Fi 6 router is a great choice. It features some of the latest wireless technology and brings with it huge updates to speed, connectivity, and device support.
Picking the exact Wi-Fi 6 router you want though is a bit tricky. There are so many things to choose from – gigabit ports, single vs dual band antennas, USB ports, gaming controls – and that's just the basics. What about advanced features such as parental controls, network security and link aggregation?
I recently went through this process myself to upgrade my aging Wi-Fi 5 router, so to save you a bit of time, I put together a list of the best Wi-Fi 6 routers you can currently buy. I made sure to include a few different options, so let's jump straight in.
What is Wi-Fi 6 and Why You Should Care?
Firstly, it's important to understand what Wi-Fi 6 is, the new features it brings, and more importantly – how all of this might impact your home network.
Wi-Fi 6 was first made available in 2019, so it's not exactly the newest, flashiest standard out there. Compared to Wi-Fi 5, it improved support for dual band routers that work on both the 2.4 GHz and the 5 GHz channels, significantly impacting backwards compatibility with older devices. It also offered higher maximum speeds and better performance in congested areas.
Wi-Fi 6 also introduced a new feature called Target Wake Time, or TWT – a technology that allows your router to manage the activity of Internet of Things devices, effectively extending their battery life and minimizing the 'fight' for signal between multiple devices.
So, to sum things up, if you've got plenty of older devices and skipped Wi-Fi 5 because it only supported the 5 GHz band, or you have a large number of IoT devices, or like me, you're just looking for the latest and greatest – Wi-Fi 6 is definitely something you should care about.
What to Look For When Buying a Wi-Fi 6 Router
When choosing a Wi-Fi 6 router, there are several things you need to take into consideration.
Speed: Wi-Fi 6 routers already come with significant speed increases over older devices. As a result, all of these routers are already really fast – but some are faster than others, or offer faster speeds from further away.
LAN Ports: All Wi-Fi 6 routers come with gigabit Ethernet LAN ports – allowing you to connect devices via an Ethernet cable and get download and upload speeds of up to 125 MB/s – provided of course the internet plan you have with your internet service provider is super fast.
You should also consider how many Ethernet devices you want to connect to your router – ensuring you buy one with enough Ethernet ports. Otherwise, you'll have to spend extra money to buy a network switch.
USB Ports: If you need to connect external devices like a hard-drive or SSD, consider choosing a router with built-in USB connectivity.
2.5G/Multi-Gig Ports: Some routers offer faster LAN connectivity by providing 2.5 gigabit Ethernet ports (also known as Multi-Gig ports) – great for internet plans faster than 1 gigabit, or connecting to external devices like a Network Attached Storage device (NAS).
Coverage: Another important factor for any Wi-Fi 6 router is coverage. The coverage is, in many cases, dictated by the number and strength of the router antennas. If maximum speed is your goal, I suggest you steer clear of routers with internal antennas, because only a few routers have managed to pull this off without compromising on signal strength and coverage.
External antennas are the way to go, especially because you can physically point them in the exact direction you want your Wi-Fi signal strength to be the greatest.
Wi-Fi Mesh Systems: If you live in a large home, or have really thick walls (or both) – the chances of covering your entire home with a single router are slim. This is particularly problematic if you can't go for central placement and place your router in the middle of your home.
If this is the case, a Wi-Fi mesh system might come in handy, with multiple wireless routers working together to provide the best possible coverage.
Should You Wait for Wi-Fi 7?
The Wi-Fi Alliance has already announced the next standard for Wi-Fi devices, Wi-Fi 7. It is expected that it will be adopted by 2024, which isn't that far off. But in my experience, and if what happened with Wi-Fi 6 and Wi-Fi 6e is anything to go by, I would say you should hold off on Wi-Fi 7 until at least 2025.
The first issue with waiting is the fact that even if the standard is adopted in 2024, it's going to take a bit of time for manufacturers to make routers and other networking and smart home devices that will support the standard.
The second issue, which also happened with Wi-Fi 6, is that for at least the first couple of months, the best Wi-Fi routers that support the new standard will dictate exorbitant prices. And that doesn't only apply to routers — keep in mind that you'll need to have other devices that can take advantage of the new standard. It's going to cost you a lot.
While I fully understand the desire to future proof your network and have your main router have all the latest bells and whistles, I firmly believe you can do that with a Wi-Fi 6 router and networking equipment. To add to this, chances are most Wi-Fi 6 routers can saturate the download speeds (and upload speeds) your internet service provider gives you with your contract, making it a moot point to wait for Wi-Fi 7 if you need a new router.
With all that being said, here are what I believe to be the best Wi-Fi 6 routers you can buy today to elevate your networking experience.
The Best Wi-Fi 6 Routers
This list is in no particular order, and I did my best to include as many different price points as possible, to hopefully include everyone's budget.
Speed: Up to 5700 Mbps
Connectivity: 1x WAN, 1x 2.5G WAN/LAN, 2x USB 3.2, 4x Gigabit LAN
Features: Dual-band, ASUS AiMesh, ASUS AiProtection Pro, MU-MIMO
The RT-AX86U by ASUS is an excellent mid-range router choice. It comes with speeds of up to 5700 Mbps when used with a Wi-Fi 6 compatible device and the 5 GHz band. There are three adjustable external and one internal antennas to offer the best possible coverage.
You get a decent amount of ports on the back too. There are 2x USB 3.2 Gen 1 ports for connecting external drives or other accessories, and 5x LAN ports (one of which is 2.5G capable).
If you have a large home and need increased coverage, you can use the ASUS AiMesh technology to create a Wi-Fi mesh network with other AiMesh-compatible routers.
The RT-AX86 also offers ASUS's router software, which gives you features such as AiProtection Pro and gaming-oriented features like GameBoost.
It's worth mentioning that there are two variants of this router, the RT-AX86S and the RT-AX86U. Compared to the RT-AX86S, the RT-AX86U is the better choice, with double the amount of RAM, as well as an extra 2.5 Gigabit Ethernet port. If possible, I would suggest you go for the U variant, rather than the S.
The bottom line: The ASUS RT-AX86U is a very feature-rich and affordable Wi-Fi 6 monitor designed with gamers in mind, although it's speed and performance will benefit any type of user.
Speed: Up to 7.8Gbps
Connectivity: 1x WAN, 1x 2.5G WAN/LAN, 1x USB-C 3.0, 4x Gigabit LAN
Features: Tri-band, Wi-Fi 6E, 4×4 MU-MIMO, NEATGEAR Armor cyber threat protection
Netgear's Nighthawk RAXE300 is an incredibly powerful router with Tri-Band Wi-Fi 6E support. It's perfect for high-bandwidth applications like 8K video streaming, or AR/VR gaming.
The RAXE300 has six hidden internal antennas that help to extend the Wi-Fi signals over larger areas (the wing-type design on the sides of the router). Netgear claims that these antennas have been pre-optimized for best Wi-Fi performance. Arguably, external antennas are preferable because you can manually adjust the direction they face, but it likely makes minimal difference depending on your home.
Neatgear has said the RAXE300 provides Wi-Fi coverage up to 2,500 sq. ft. and 40 devices. This is more than enough for the average home.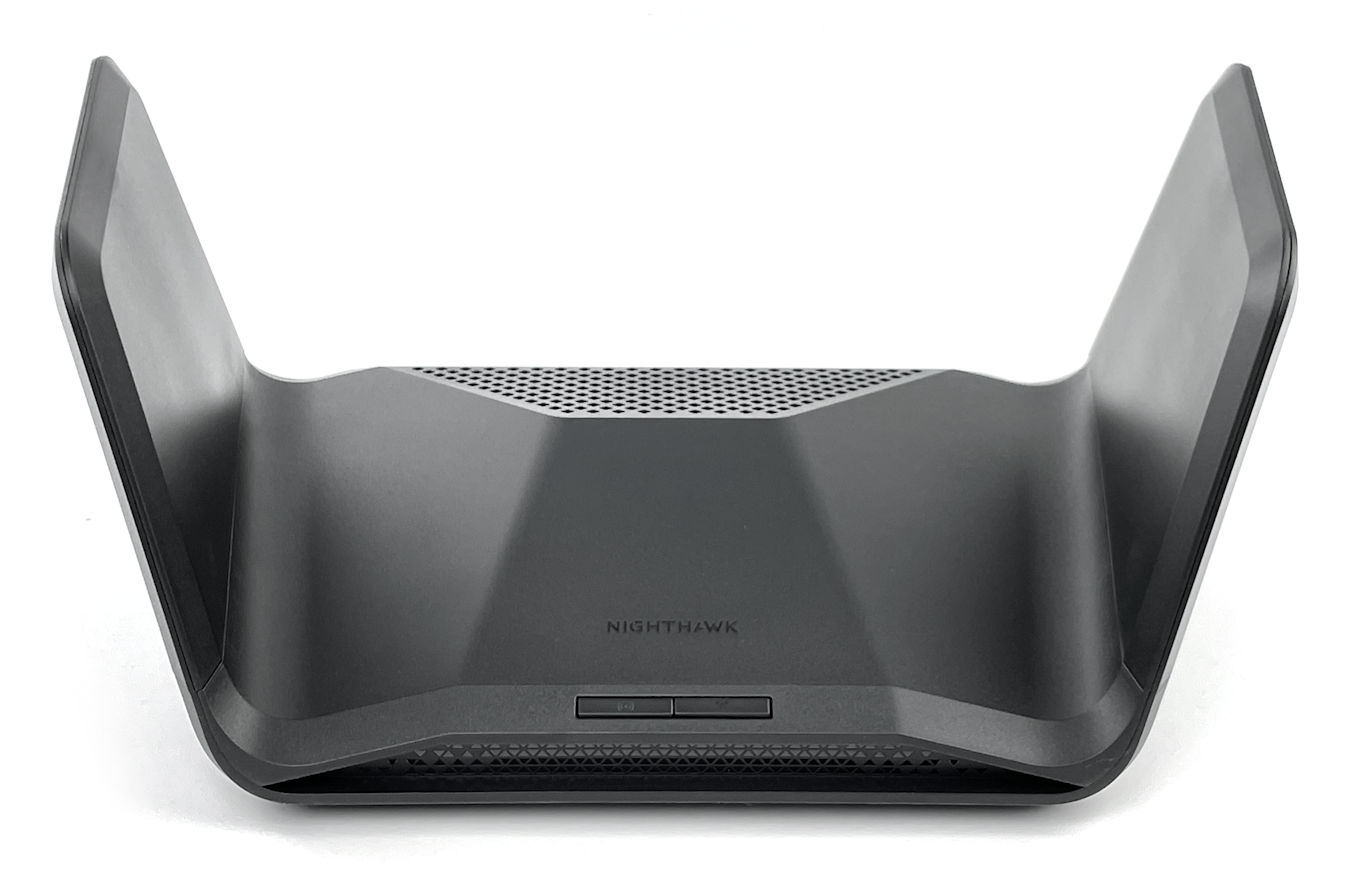 This is a tri-band router which also has support for Wi-Fi 6E and supports up to 600 Mbps on the 2.4GHz channel, up to 4.8 Gbps on the 5GHz channel, and up to 2.4Gbps on the 6GHz channel.
Port selection is solid, with four gigabit Ethernet LAN ports (two of which can be linked together to provide 2Gbps aggregate speed), as well as a single 2.5Gbps LAN or network port. You also get a single USB-C port that will allow you to use network attached storage devices.
Software-wise, the RAXE300 comes with NETGEAR Armor for network security, as well as advanced features like parental controls and VPN support.
The bottom line: If you're not a fan of external antennas and don't mind paying a bit more for blazing fast speeds and performance, the Nighthawk RAXE300 is a solid choice.
Speed: Up to 10.8Gbps
Connectivity: 1x WAN, 1x 2.5G WAN/LAN, 2x USB-A 3.0, 4x Gigabit LAN
Features: Tri-band, Wi-Fi 6E, 4×4 MU-MIMO, NEATGEAR Armor cyber threat protection
In addition to the RAXE300, I can also recommend it's bigger brother, the RAXE500. Even though significantly more expensive, the RAXE500 supercharges your network with higher speeds on 2.4 GHz (up to 1.2 Gbps), and on 6 GHz (up to 4.8 Gbps).
In terms of ports, you get a very similar configuration to the RAXE300, including link aggregation. There are two minor differences however.
Firstly, the single USB-C 3.0 port on the RAXE300 is replaced with 2x USB-A 3.0 ports. Secondly, the RAXE500 allows for an additional 2Gbps aggregation that isn't present in the RAXE300 (2x LAN ports can be aggregated, and 1x WAN and another 1x LAN as well). In total, you can theoretically get 2x 2Gbps and 1x 2.5Gbps connections on a single router, which is very impressive.
The RAXE500 also has a slightly more powerful CPU inside, but you likely won't notice this unless utilizing all of the 2Gbps+ connections.
The bottom line: The Netgear RAXE500 is about as premium as it gets, and the price tag reflects that. In return however, you get screaming-fast internet speeds and a wide range of super-fast 2Gbps+ connectivity options for either Internet or LAN.
Speed: Up to 10.7Gbps
Connectivity: 1x WAN, 1x 2.5G WAN/LAN, 1x USB-C 3.0, 1x USB-A 3.0, 8x Gigabit LAN
Features: Tri-band, Wi-Fi 6, 4×4 MU-MIMO, 8 adjustable antennas
Apparently if you add as many antennas as possible and a splash of red to your router, you can call it a gaming router. Or at least that's what TP-Link has done with the Archer AX11000 – a flashy Wi-Fi 6 router that comes in at an impressively low price for everything it offers.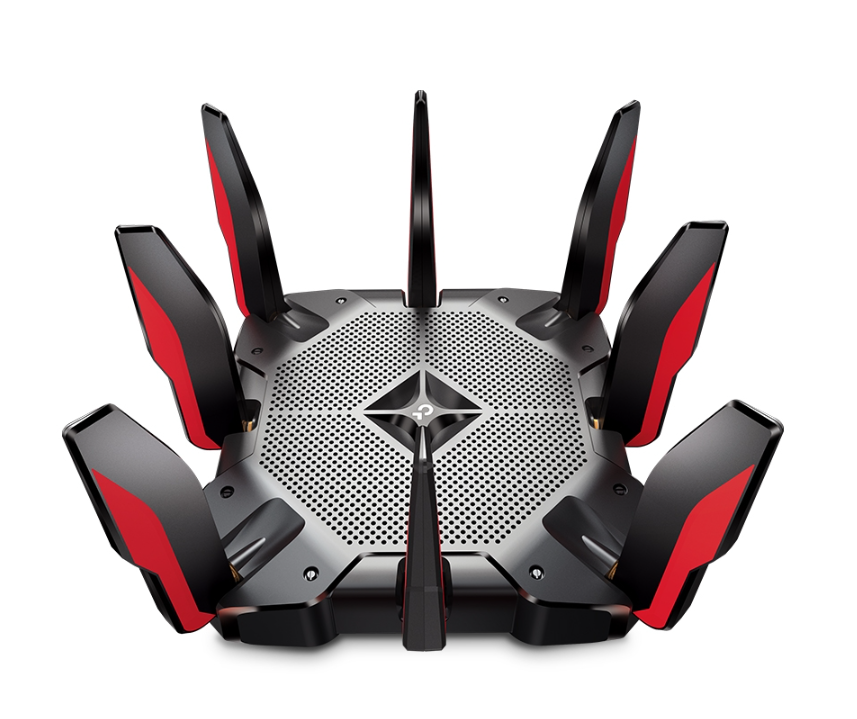 On the outside are eight antennas that allow excellent coverage, and what you'd call the exact opposite of a subtle design. The router is tri-band, and combines two 5GHz channels (one of which is dedicated to gaming) with a 2.4GHz channel, for a total bandwidth of 10,756 Mbps (4.8 Gbps on each of the 5 GHz channels, plus 1.2 Gbps on the 2 GHz channel).
TP-Link claims that this powerful router is able to provide coverage for a 4-6 bedroom house, and with the Beamforming technology included in Wi-Fi 6 compatible routers, they're probably right. Unless, of course, your house has really solid walls.
Port selection is nothing short of impressive, with eight gigabit LAN Ethernet ports, as well as USB connectivity with one USB-C and one USB-A port. You also get a 2.5 gigabit WAN port, as well as support for link aggregation. I don't think I've seen this level of connectivity and sheer number of LAN ports on a router before.
The TP-Link Archer AX11000 also comes with a complete software suite that allows for easy setup, but also management of parental controls, quality of service adjustments, and advanced content and URL filtering. There is of course a tonne of gaming-oriented software features too, but you can ignore them if gaming is not your primary function.
The bottom line: The TP-Link Archer AX11000 has top of the line specs and provides an insanely fast and powerful Wi-Fi 6 network, but with a surprisingly affordable price tag.
Speed: Up to 6Gbps
Connectivity: 1x 2.5G WAN/LAN, 1x 2.5G LAN, 4x Gigabit LAN, 1x USB 3.2, 1x USB 2.0
Features: Wi-Fi 6, MU-MIMO, 4 adjustable antennas
If you've ever looked at gaming hardware, you're probably expecting the ROG Rapture GT-AX6000 to be one expensive router – as is any other ROG product by ASUS. The GT-AX6000 is expensive compared to other similar routers, and I find it does very little to justify its price.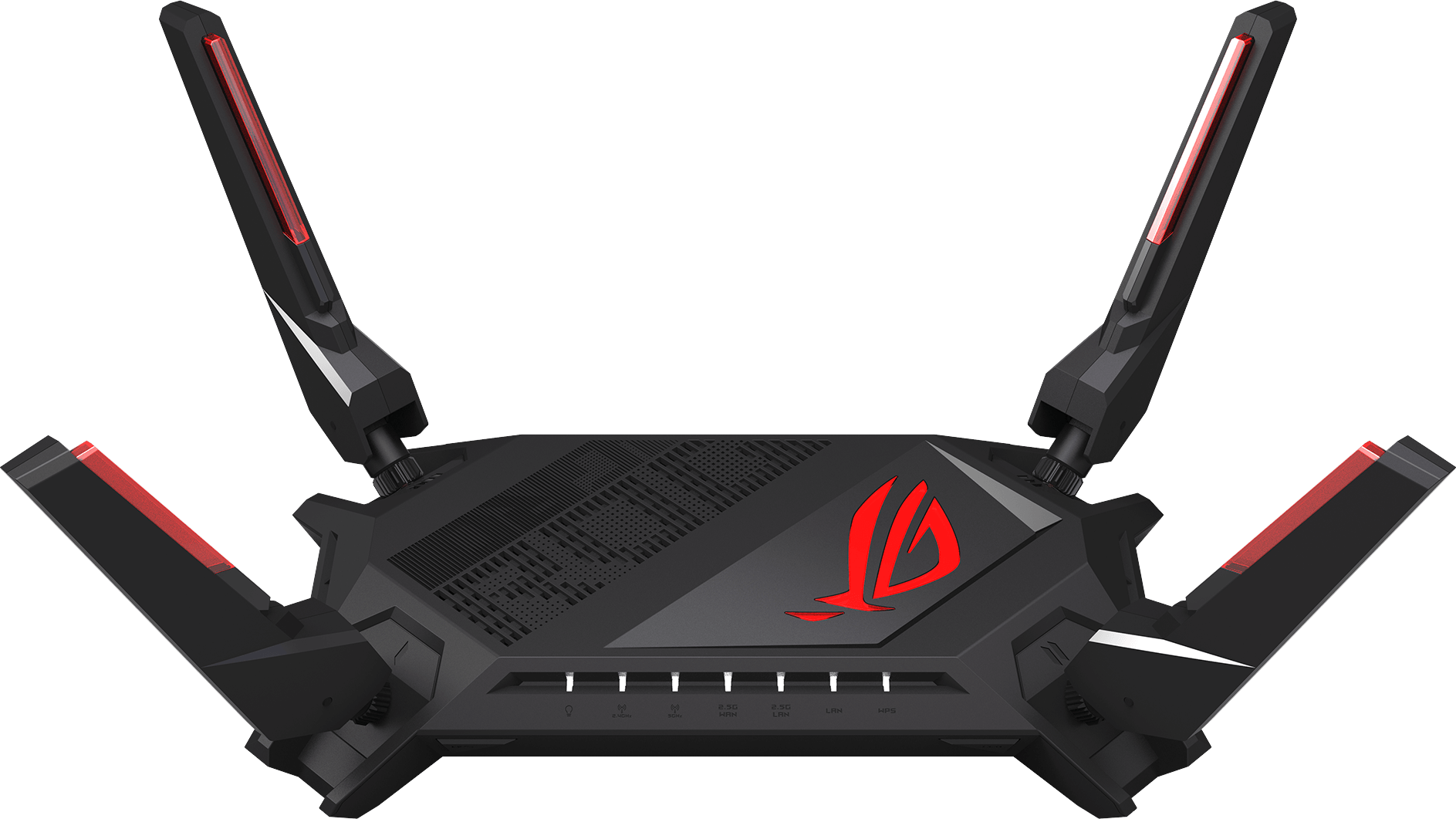 The design is, well honestly, surprisingly subtle for an ASUS ROG product, with four external antennas and an AURA RGB backlit logo. At the back are four gigabit LAN ports, as well as two 2.5 Gbps ports that support load balancing, basically allowing you QoS on a hardware level. They also support both LAN and WAN aggregation, so you can take advantage of even the highest internet speeds your ISP can deliver. You also get two USB ports, too, for added storage.
One exciting feature of the GT-AX6000 is "VPN Fusion". It allows you to run both a VPN and an ordinary internet connection simultaneously. This is great, because although a VPN is great for privacy and helps secure your online activity, it can slow down games that require a fast connection (low in-game ping).
On the inside, the 2.0 GHz quad-core processor performs exceptionally when it comes to distributing the load and managing all the other router settings, something I can't say about all ASUS routers I've had my hands on. The 2.4 GHz channel supports speeds of up to 1.2 Gbps, and the 5 GHz channel supports up to 4.8 Gbps.
The bottom line: There's nothing inherently wrong with this router. It's fast, has a tonne of features especially if you're a gamer, and has a really powerful processor. However, it doesn't stack up quite as well against similar competitors like the TP Link Archer AX11000 for the price it asks.
Speed: Up to 5.4Gbps
Connectivity: 1x WAN, 4x Gigabit LAN, 1x USB 3.0
Features: Wi-Fi 6E, MU-MIMO, HomeShield Security
TP Link's Archer AXE5400 (also known as the AXE75) is one of the most affordable tri-band Wi-Fi 6E routers out there, offering what I consider to be a slimmed down, budget, but incredibly fast Wi-Fi 6E experience.
Being a Tri-Band router, you get three channels – 2.4Ghz, 5Ghz, and also the new 6Ghz channel introduced with the new Wi-Fi 6E standard. Both the 5 GHz and 6 GHz channels can only operate at up to 2.4 Gbps, and the 2.4 GHz channel only has 574 Mbps as a maximum speed (yes, you read that right – not even gigabit).
So you won't get blazing fast speeds, but don't forget the price also reflects that – it's a really affordable option.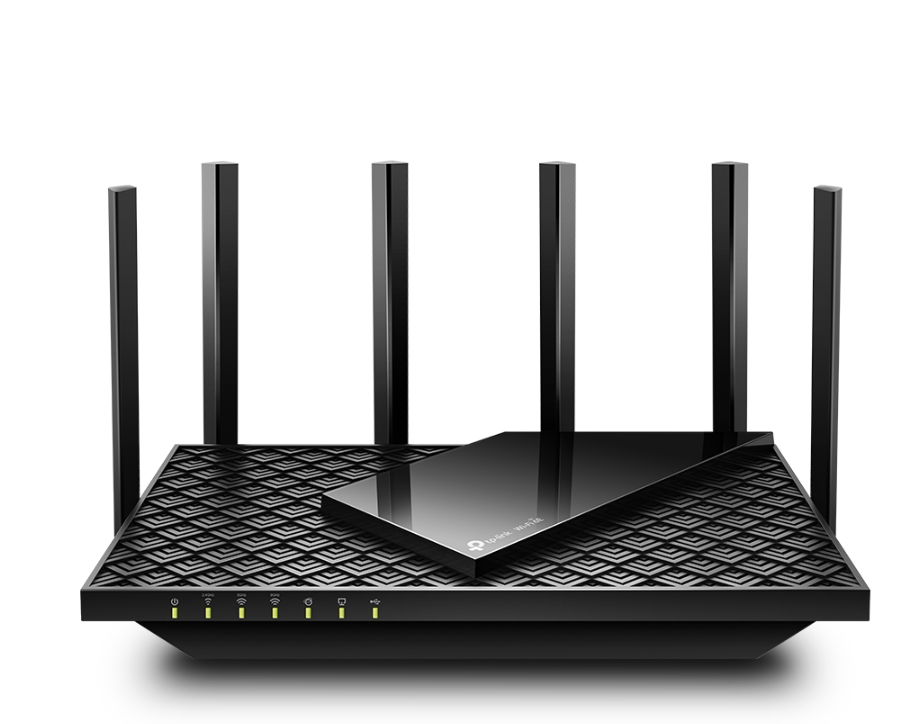 At the rear is a single gigabit WAN port, as well as four gigabit Ethernet ports to connect wired client devices to. You also get a USB 3.0 port if you want to add storage to your router, but that's it – no 2.5 Gbps port or secondary USB port.
The six antennas provide a solid wireless experience, though I've definitely had a better signal with other routers. The antennas are fixed and cannot be re-positioned either.
The bottom line: If you're looking for a budget, no-frills router, the TP-Link Archer AXE75/AXE5400 is a great choice. You'll get the latest and greatest Wi-Fi 6E standard, decent speeds (great for small to medium-sized homes), and some modern technology like Tri-Band and Beamforming.
Speed: Up to 1.8Gbps
Connectivity: 1x WAN, 4x Gigabit LAN
Features: Wi-Fi 6, built-in VPN
I'll be the first to admit that the Aircove router by ExpressVPN wouldn't usually be one of my recommendations. However, as someone who uses a VPN rather often nowadays, usually for network security, it's a concept that piqued my interest and warranted a closer look. For the uninitiated, the Aircove is ExpressVPN's Wi-Fi 6 router that comes with built-in, already set up, ExpressVPN.
Before I dive into the actual VPN aspect, I should mention that if you take the VPN away, Aircove is a below-average Wi-Fi 6 router: it only has up to 600 Mbps at 2.4GHz and up to 1.2 Gbps at 5GHz, as well as only four gigabit ports (and no USB ports either).
And I know what you're thinking – you can install a VPN on almost any router, right? Well, yes, most compatible routers let you install ExpressVPN, or another VPN of choice, but none of them make it as easy as Aircove. If you already have an active subscription with ExpressVPN and want all connected devices to be protected, this is a solid Wi-Fi 6 router to consider.
The big selling point of this router is that ExpressVPN claims the Aircove Router is up to 4x faster than an equivalent router running ExpressVPN firmware. In reality, it depends on the actual router you're using. In my opinion the Aircove's biggest advantage is ease of use. It's simply much easier to set up, get connected to a VPN, and start using devices with it when compared with other routers (e.g. spending hours messing around in the menu system).
The bottom line: The Aircove is a below-average router in terms of speed, features, and functionality. The only reason you should buy it is if you want a simple, easy to use router and you're planning to use ExpressVPN's VPN in your home network (although it does work with other VPN providers).
Best Mesh Router
Speed: Up to 5.4Gbps
Connectivity: 1x WAN, 3x Gigabit LAN
Features: Wi-Fi 6E, 2×2 MU-MIMO, AI-Driven Mesh, TP-Link HomeShield, Tri-Band
If you're looking at Wi-Fi mesh systems, the TP-Link Deco AXE5400 (also known as the Deco XE75) is one of the best options to consider. You can get a two-pack for a really solid price and cover up to 5,500 square feet with minimal dead zones, making it perfect for medium-sized apartments and houses.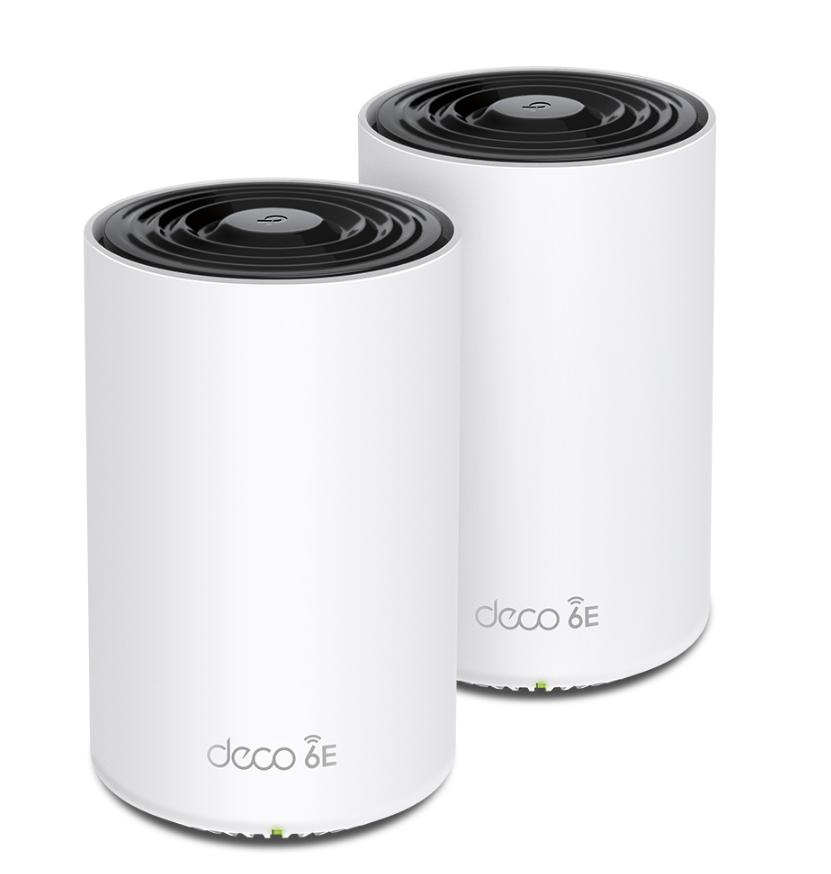 The Deco AXE5400 units are Tri-Band mesh routers, with up to 2.4 Gbps on both the 5 GHz and 6 GHz channels, and up to 574 Mbps on the 2.4 GHz channel. At the rear of each mesh router you will find 3x Gigabit LAN ports for connecting your Internet and also providing a direct connection to up to 2 devices.
The Deco AXE5400 makes use of a AI-driven mesh technology. This improves your Wi-Fi experience by keeping a single SSID for your entire home network, allowing your devices to connect to whichever router is closer. This technology also allows Deco to automatically learn your network environment, client quality, and user behaviours in your home to intelligently make real-time improvements to your network.
The bottom line: TP-Link's Deco AXE5400 is an inexpensive and no-fuss way to bring the power of a Wi-Fi mesh system to your home. Note that TP-Link sells different packs to provide the best coverage for your home – 3-pack (covers 670m²), 2-pack (covers 500m²), and 1-pack (covers 270m²).
Speed: Up to 10.8Gbps
Connectivity: 1x 10Gbps WAN, 1x 2.5Gbps Ethernet Lan, 3x Gigabit LAN
Features: Wi-Fi 6E, 2×2 MU-MIMO, AI-Driven Mesh, TP-Link HomeShield, Tri-Band
Netgear's Orbi 960 mesh Wi-Fi system is jam-packed with high-end features, but it also quite pricey. A single unit costs more than a three-pack of the TP-Link Deco AXE5400 I mentioned previously. This made me wonder – what has Netgear done with the Orbi 960 to make it worth the asking price?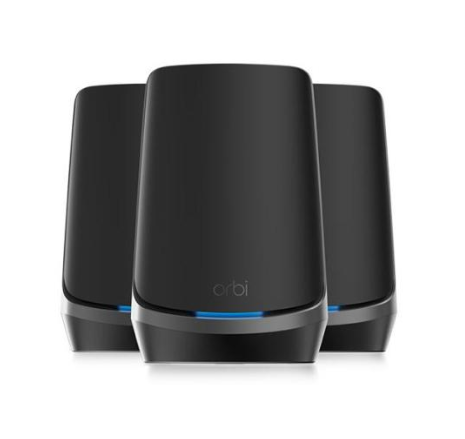 Well, for starters, they didn't hold back with the specs – the Orbi 960 units are quad-band wireless devices that have a single 2.4 GHz channel at up to 1.2 Gbps, dual 5 GHz channels at up to 2.4 Gbps, and a single 6 GHz channel at up to 4.8 Gbps. With two units, you can cover up to 6,000 square feet which is huge.
The main mesh router unit comes with one 10Gbps ethernet WAN port, as well as one 2.5Gbps LAN port and three gigabit LAN ports, whereas the satellite units omit the WAN port but have the other four. This lets you not only enjoy groundbreaking mesh performance, but also connect wired devices or security cameras to the LAN ports.
Also, these wireless devices don't really look like your typical router – I initially had them confused with Bluetooth speakers, and in my opinion, any wireless router that doesn't look like a router, looks good. You can also buy an additional accessory for wall-mounting.
The bottom line: The Netgear Orbi 960 has insane specs and a price tag to match. If money is no issue for you, and you want the best of the best in Wi-Fi 6E mesh systems (with 10Gbps support), you should consider this router.
Speed: Up to 8.4 Gbps
Connectivity: 1x 5 Gbps WAN, 4x Gigabit LAN, 1x USB 3.0 Port
Features: Wi-Fi 6E, 4×4 MU-MIMO, Tri-Band, 12 internal antennas
Linksys is a household name in the Wi-Fi router industry. As far as mesh systems go in terms of pricing, the Atlas Max 6E is somewhere in the middle of the range, not as affordable as the TP-Link Deco AXE5400, but also not as expensive as the Netgear Orbi 960.
The Atlas Max 6E comes with three bands – 2.4GHz at up to 1.2 Gbps, 5GHz at up to 2.4 Gbps and 6GHz at up to 4.8 Gbps. This is more or less what I would expect from a mesh system, and two of them can cover up to 6,000 square feet, much better than a standalone router.
Linksys has somehow crammed 12 internal antennas inside the plastic chassis, and although a drawback of this is no adjustability, the overall Wi-Fi range and experience is still blazing fast.
Port selection is relatively standard. You'll get four LAN Gigabit ports and one WAN gigabit port, but the WAN port rated at 5 Gbps – great for those with faster than 1 Gbps internet plans. You also get a USB port for additional network storage.
The bottom line: The Linksys Atlas Max 6E is a no-frills mesh router system with the latest Wi-Fi 6E technology and incredibly good coverage for larger homes.
Speed: Up to 6.6 Gbps
Connectivity: 1x 2.5 Gbps WAN, 3x Gigabit LAN, 1x USB 3.1 Port
Features: Wi-Fi 6E, 4×4 MU-MIMO, Tri-Band, 12 internal antennas
Back to the world of affordable mesh systems, the ZenWiFi AX (XT8) is another option from ASUS that aims to cover the basics well, without the bells and whistles of the premium systems. That doesn't mean the ZenWiFi AX XT8 is bad, at all – in fact it's great if you want mesh performance at a reasonable price, and don't have a particularly large surface area to cover.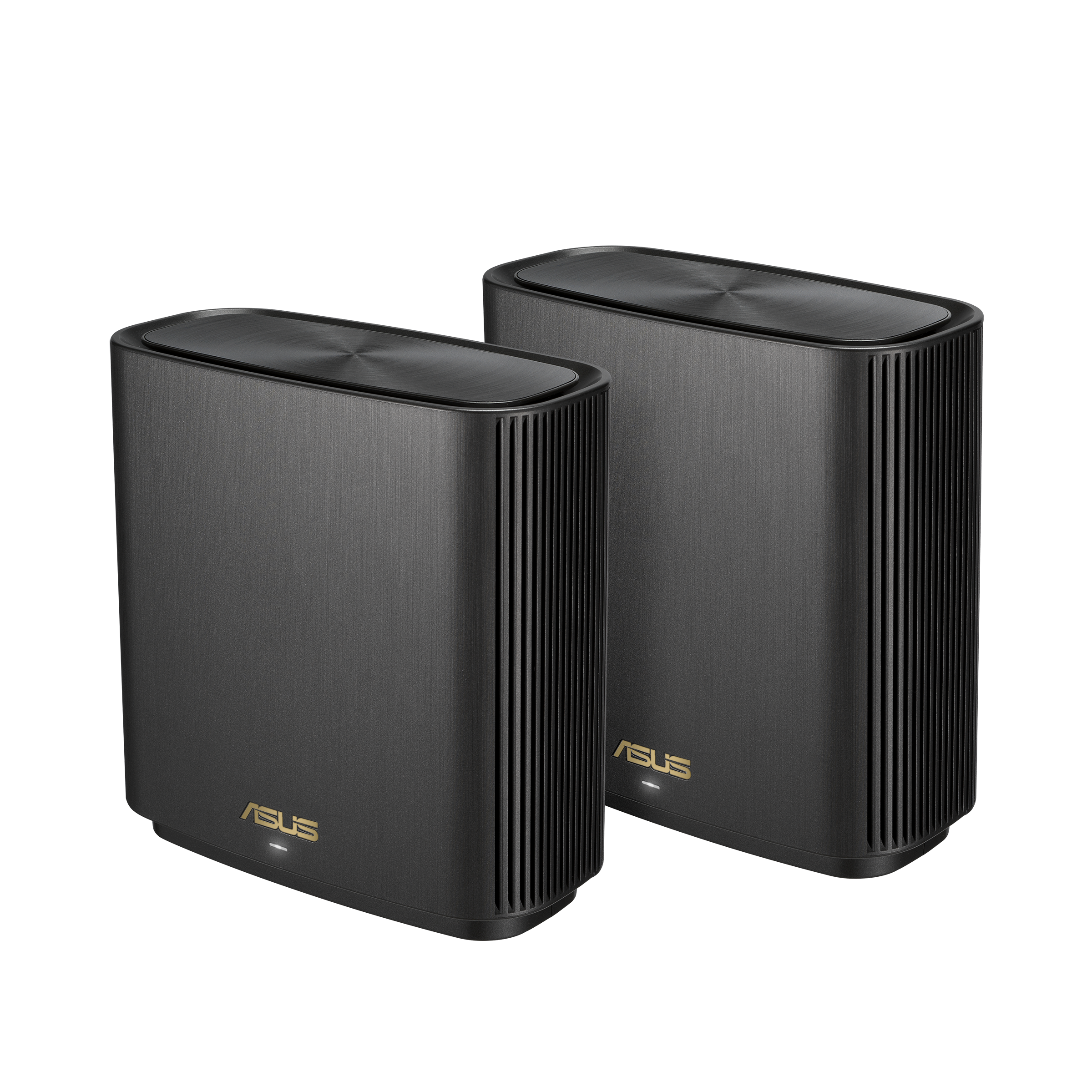 Each mesh router comes with a 2.4GHz band at up to 574 Mbps, as well as two 5GHz bands, one of which supports up to 1.2 Gbps and the second one goes up to 4.8 Gbps. While this isn't groundbreaking performance, it's absolutely respectable and matches a solid standalone router. At the back, you get a 2.5 Gbit WAN port, as well as three gigabit ports and a USB 3.1 port for any USB devices.
If you live in a smaller apartment or house, you can have plenty of connected devices to this mesh system, both wired and wirelessly. What I would do is connect gaming consoles via the LAN ports for the best online gaming performance, and connect all my other devices wirelessly.
ASUS also made the setup of the ZenWiFi AX super easy – you just download the ASUS Router app, turn on your router, create a network name and admin account, and ASUS does the rest for you.
The bottom line: Unfortunately, if you live in a larger home, the ASUS ZenWiFi AX (XT8) might not cut it – the six internal antennas in each router aren't exactly enough to cover a large area. If you're after a mesh system that minimizes blind spots for a small home, this could be a solid and cost-effective option.
Most Popular Budget Mesh System
Speed: 1 Gbps +
Connectivity: 1x WAN, 1x Gigabit LAN
Features: Wi-Fi 6, 4×4 MU-MIMO, Tri-Band, Zigbee Smart Home Hub
The eero Pro 6 by Amazon is the most affordable mesh system that I'll suggest, and I'll say this upfront: if you're in need of a mesh system that plays nice with IoT (Internet of Things) devices, it's perfect. If you want a gaming router that will let you make the most of your internet connection and is a part of a mesh system for better coverage, this isn't it.
Let me explain. The eero Pro 6 comes in a two pack (or three pack) for an incredibly affordable price. It only has two Ethernet ports per unit, and a maximum internet connection speed of up to 1 Gbps, so you won't be connecting wired devices for high performance, unfortunately. You have both a 2.4 GHz band, and two 5 GHz bands, for optimal network traffic routing.
The two pack covers up to 3,500 square feet, whereas adding a third router to the system ups that to 6,000 square feet.
However, each of the units also acts as a Zigbee Smart hub, which lets you connect your smart devices and manage them all from one centralized location. Most smart home enthusiasts, me included, buy a separate hub for this, so getting it included is a welcome addition.
The bottom line: If you're looking for a Wi-Fi 6 mesh system, there are better options. But if you want to take advantage of a Zigbee Smart Home Hub and don't really need more than gigabit speeds, the inexpensive eero Pro 6 is an excellent choice.
Speed: Up to 7.7 Gbps
Connectivity: 1x WAN, 4x Gigabit LAN
Features: Wi-Fi 6, MU-MIMO, Tri-Band, Touch-screen
If you want both a mesh router, and a conventional Wi-Fi 6 router in a single device, the Ubiquiti AmpliFi Alien router is an interesting choice. Yes, they named it Alien… Strange name, but it also has glowing green LEDs on the base, so I guess it makes sense?
Now, Ubiquiti (the company that owns the AmpliFi brand) is more on the enterprise side of networking gear. I usually steer clear of enterprise brands, since their advanced settings can be difficult to understand and are overkill for most people. It's different here though – the AmpliFi Alien breaks that stigma by offering an incredibly quick setup and configuration, and flawless performance afterwards.
The Alien Wi-Fi 6 router comes with a 2.4GHz band at up to 1.2 Gbps, as well as two 5GHz bands, one up to 1.8 Gbps, one up to 4.8 Gbps. It's another example of Wi-Fi 6 routers doing internal antennas right – wireless coverage is excellent both as a standalone router, and as part of a mesh system.
At the rear, the router has four LAN ports, as well as a single WAN port at the top. At the front is a high resolution display that shows you all your network stats at a glance. Keep in mind that this display is only for the main router – the mesh point doesn't have it, but you don't really need it on every device.
The bottom line: Get the Ubiquiti AmpliFi Alien if you love advanced features, blazing fast performance, and are a bit of a tech-head. It looks great, performs well, and you get mesh capability built-in (you can buy mesh-points separately or as part of a package).
Wrapping Things Up – Which Router is Right for You?
With routers, there is no "one size fits all" – the best router for your needs will depend on what those needs are. If you only need a high performance Wi-Fi 6 router that's reliable and keeps your home network running fast, I'd say the best options are the ASUS RT-AX86, or the TP-Link Archer AXE75.
If you're on the hunt for a gaming router, both TP-Link's Archer AX11000 and the ASUS ROG Rapture GT-AX6000 are solid choices, though the TP-Link does have an edge with the higher number of antennas and the additional 5GHz band.
Last but not least, if you live in a large house or apartment, want complete wireless coverage, and aren't opposed to buying multiple devices to build a mesh Wi-Fi system, I would suggest either the TP-Link Deco XE75, or the ASUS ZenWiFi AX XT8. Of course, there's also the AmpliFi Alien from Ubiquiti, which is the best of both worlds, but it can be a bit pricey.
While you can't go wrong with any of the routers I mentioned above, some are going to be better than others for certain tasks. Make sure you pick the one that suits your needs best, and enjoy the benefits of Wi-Fi 6!
Frequently Asked Questions
Is Wi-Fi 6 better than Wi-Fi 5?
Yes – when comparing it to Wi-Fi 5, or older standards, Wi-Fi 6 brings improved speeds, better Wi-Fi signal quality and support for more devices on a single router.
How far can Wi-Fi 6 reach? 
The range of Wi-Fi 6 depends on a myriad of factors – from the band used, to the router and client devices, as well as any obstacles or signal interference that impacts the connection. In general, in ideal conditions, you can expect up to 150 feet indoors and 300 feet outdoors, though that can vary quite a bit.
How many devices can Wi-Fi 6 support?
This depends greatly on the specific Wi-Fi 6 router, but in general, more budget-level Wi-Fi 6 routers should be able to comfortably support 50 devices without issue. On more powerful routers, expect that to increase to up to 255 devices.
Can older laptops connect to Wi-Fi 6?
Yes, Wi-Fi 6 introduced backwards compatibility, allowing older devices to connect to a Wi-Fi 6 router with ease. That being said, if you want to make the most of Wi-Fi 6, it's recommended that you use devices that can take advantage of the faster speeds your home network will offer.