When 4K monitors first came to market, they were so expensive that many people considered selling a kidney just to afford one. Fast forward a few years though – you can now get a budget monitor with a 4K resolution that has respectable picture quality and specs. In fact, there are now so many options in the budget monitor space – picking the right budget 4K monitor has become tricky.
With that in mind, I did the research and reviewed some of the best budget 4K monitors. Their prices do vary, but the definition of "budget" also varies, too, so I made sure to include something for all price ranges.
Why Choose a 4K Monitor?
Compared to a full HD (1920 x 1080) monitor, which is what many people currently use, a 4K monitor has a resolution of 3840 x 2160, which is four times as many pixels. This gives you a lot more screen real estate, allowing you to have multiple windows open side by side, without losing out on image quality. When it comes to productivity, this comes in clutch.
To add to this, you can also increase your operating system scaling to still have the same screen real estate as a lower resolution monitor, but with improved sharpness. How you take advantage of the extra resolution is up to you, but it's certainly worth considering.
Even if you've upgraded in recent years to a QHD (2560×1440) monitor, a 4K monitor still offers twice as many pixels, which is a boost in screen real estate, and something you'll notice in both productivity tasks and day-to-day usage.
What Other Monitor Features Should You Look For?
As I said earlier, choosing a monitor is about a lot more than just resolution. You also want to consider the screen size, color accuracy, refresh rate, as well as extra features like a USB hub with Thunderbolt and power delivery, and a stand with as many adjustments as you can get.
When it comes to screen size, many consider 32" to be ideal for a 4K monitor. However, with smaller screens – like a 27″ screen – sharpness is better because there are more pixels per inch (known as PPI). This means you won't be able to see individual pixels as easy as you would on a larger and less pixel-dense screen.
Color accuracy and image quality vary from one monitor to another, and when it comes to refresh rates, 60Hz is standard, but higher is always better — a 144Hz monitor will feel much smoother, even in day to day use. This is because the image on the screen refreshes more frequently.
A height adjustable stand will let you set the monitor up just how you like it, and unless you're investing in a monitor arm at some point, is something to certainly consider. Last but not least, and this one will be key for laptop users, a hub with a USB-C port will let you use one cable to display an image on your monitor, charge your laptop, and use external devices – all at the same time.
There are other features to consider, such as built-in speakers, a headphone jack or a hardware color calibration that allows for more accurate colors, but I'd compromise on any of them if I was on a budget and was looking for a budget 4K monitor. That being said, some of the monitors I've reviewed do have some of these features, but they shouldn't be a deal breaker for most.
With all that in mind, here are seven of the best budget monitors with a 4K resolution that you should consider when shopping.
Best Budget 4K Monitors
LG 27UP850-W
Even though LG's 27UP850-W is on the higher end of what could be considered "budget", it's set of features make it extremely appealing for a wide range of users. It comes with a 27" IPS panel with incredible image quality, as well as a nice selection of ports at the rear and an adjustable stand.
If you're a content creator, this is the perfect budget 4K monitor for you. The IPS panel has a 95% coverage of the DCI-P3 color space, and LG has also given you the ability to do hardware color calibration if you'd like color accuracy to be at its best. This is a feature that's usually found on a professional monitor, but I'm not going to complain about LG including it here.
Even though LG also advertises a high dynamic range (HDR400, to be specific), the monitor doesn't get bright enough for true HDR. It's still an excellent IPS monitor, though — just not one that's capable of true HDR.
While this is definitely not a gaming monitor with a refresh rate of 60Hz, you do get AMD FreeSync which will help eliminate screen tearing and give you a smoother gaming experience.
Last but not least, LG includes two USB-A ports and one USB-C port with data transfer ability and up to 96W charging, so if you're looking for a clean setup with only a single cable coming out of your monitor to your laptop, this is an excellent budget 4K solution. There is also a single DisplayPort port and two HDMI ports, as well as a 3.5mm audio port for additional connectivity.
Overall, the LG 27UP850-W is the best budget 4K monitor for creatives that want impeccable color accuracy without paying professional monitors prices. It's also an excellent all-round 4K monitor for users that just want the high resolution, as well as for folks that enjoy a bit of casual gaming.
Dell S2721QS
Dell's Studio lineup of monitors is often overshadowed by the performance of high-end IPS panels from the Professional and Ultrasharp series. However, if you're looking for a 27" 4K monitor on a budget, the S2721QS is a strong contender.
This is an in-plane switching (IPS) panel as well, so you aren't missing out on too much when it comes to quality. It covers 99% of the sRGB color space, but unlike the Ultrasharp series, you don't get the factory-done color calibration, nor do you get hardware calibration like the LG.
This isn't a gaming monitor either, but it also has AMD FreeSync to ensure a smooth experience and deal with artifacting and tearing. It's a solid choice when it comes to a casual gaming panel.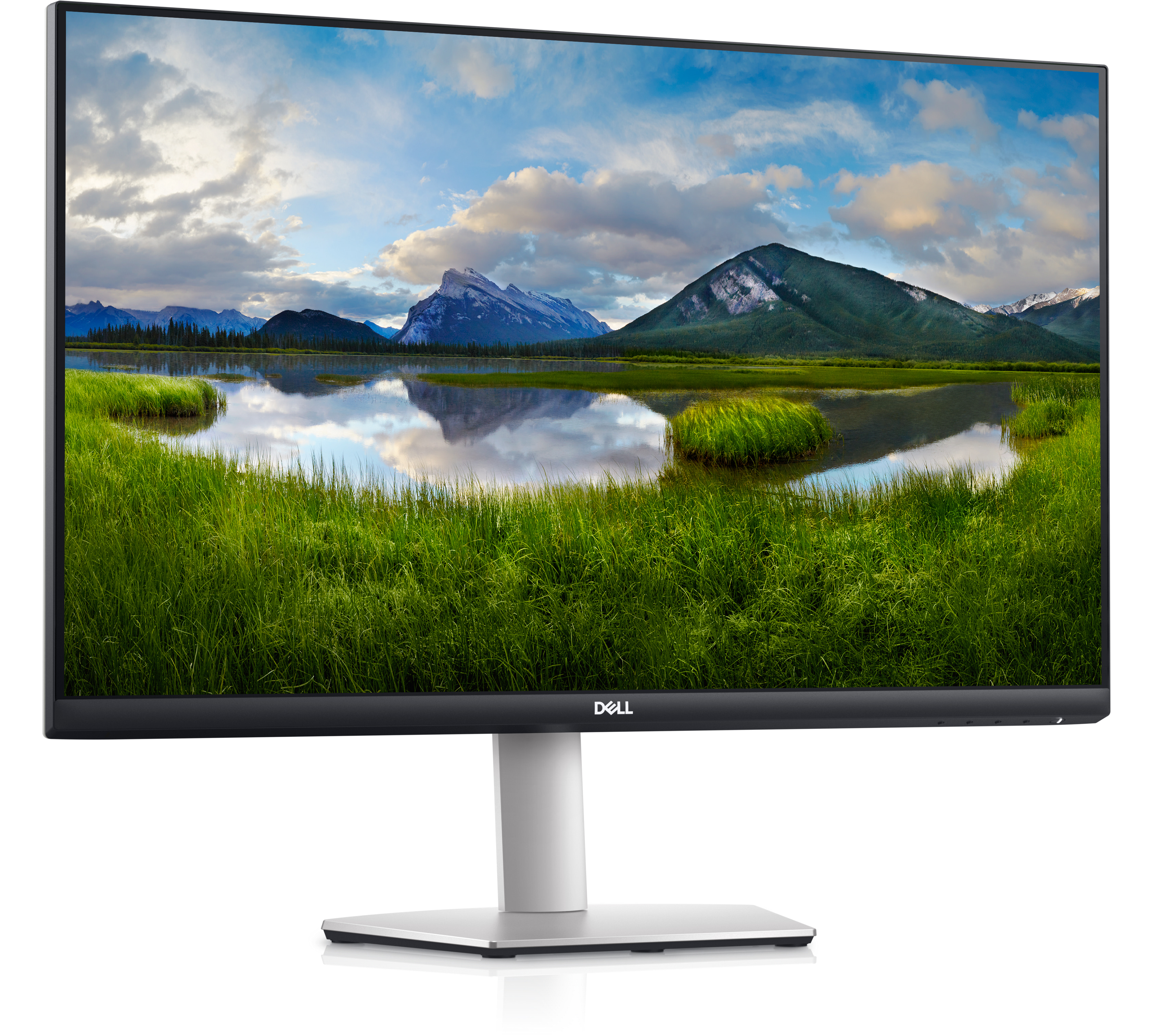 Unfortunately, Dell didn't include any USB ports at the back of the S2721QS, though you do get two HDMI 2.0 ports, a DisplayPort 1.2 port, and a 3.5mm audio out port, as well as built-in speakers.
The S2721QS comes with an adjustable stand that you can tilt, rotate and adjust the height, making it easy to get the monitor in the perfect spot for you. It's an excellent runner up if you don't need the color accuracy of our top contender, or you just don't want to spend that much money on a budget 4K monitor.
Samsung UJ59
If 27" isn't enough for you, and you prefer a larger panel for your 4K monitor, Samsung's 32" UJ59 (also called UJ590 in some regions) is an excellent choice. It comes in at a reasonable price and checks all the boxes for a great day-to-day experience.
The UJ59 comes with a VA panel rather than an IPS one. While you'll get slightly less accurate colors, especially when viewing from an angle, you get a better contrast ratio when compared to IPS panels. Samsung includes both picture-in-picture and picture-by-picture, so you can manage all that screen real estate easily.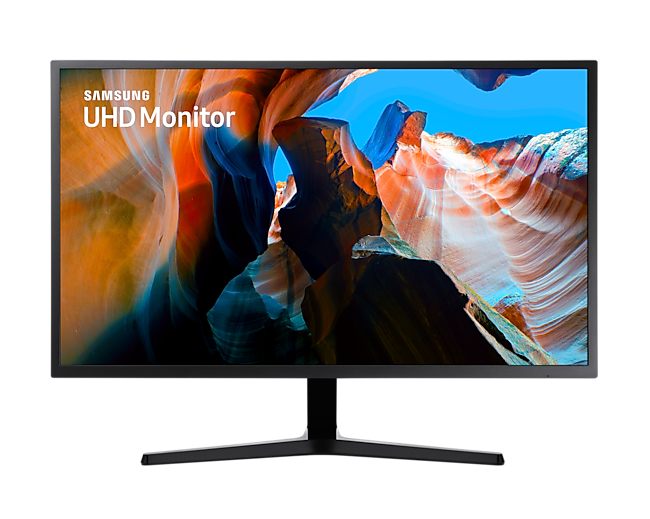 Gaming-wise, you do get FreeSync technology but a refresh rate of only 60Hz, which is pretty much standard. Samsung does include a Game Mode which boosts the contrast, but it messes up the colors a bit and its "selective" contrast boosting isn't exactly something to boast about. It simply doesn't work that well, and I've found it's best if you just leave it off.
Port selection is fairly standard – you get a DisplayPort 1.2 port, as well as two HDMI ports and a 3.5mm audio output. Unfortunately, I'm not a fan of the design – the non-adjustable stand is a pain to deal with (though it has VESA 100, so a monitor arm is an option), and the bezels are thicker than I'd like.
At the end of the day, the UJ59 is relatively average when compared to the LG and Dell options higher up on my list, but it's still a great choice if you don't want a 27" panel and would rather go bigger without breaking the bank.
Philips Brilliance 279P1
I'll be honest, Philips isn't the first brand that springs to mind when looking for a 4K monitor. However, the Brilliance 279P1 is a monitor that looks stunning, has a highly adjustable stand, and a few niche features I haven't seen offered in a 4K monitor in quite some time.
Starting with the panel, this is a 27" screen size IPS panel, which means good contrast ratio, and good colors with 122% coverage of the sRGB color gamut.
Adaptive sync is nowhere to be found here, which means gamers should look elsewhere for the best budget 4K monitor. But this isn't a monitor meant for gaming – instead, it's a monitor made to cover a wide range of day-to-day users, and here's why.
You'll get a wide array of ports, including DisplayPort 1.4 and HDMI 2.0, and also USB-C connectivity with power delivery up to 65 W. There's also several USB 3.2 ports you can use to attach accessories directly to the monitor. And, this monitor comes with duo 3W built-in stereo speakers
All in all, the Philips Brilliance 279P1 won't win any awards for the best budget 4K monitor. But if you're looking for as many connectivity options as possible with the added bonus of USB-C – it's a strong contender.
ASUS TUF VG289Q
ASUS TUF Gaming monitors tend to be the more affordable brethren of the high-end Republic of Gamers models, but I've found that, even though lower end, they let you save money without any heavy compromises in terms of features. The VG289Q confirms that for me, with a well-rounded set of features at a very reasonable price.
The 28" IPS panel has a 90% coverage of the DCI-P3 color space, which makes it a decent choice for creatives who aren't too fussed about a high level of color accuracy. Colors are excellent regardless of viewing angles, and the contrast ratio is surprisingly good for an IPS 4K monitor. ASUS does advertise HDR10, but with a peak brightness of 350 nits, that's a bit of a stretch.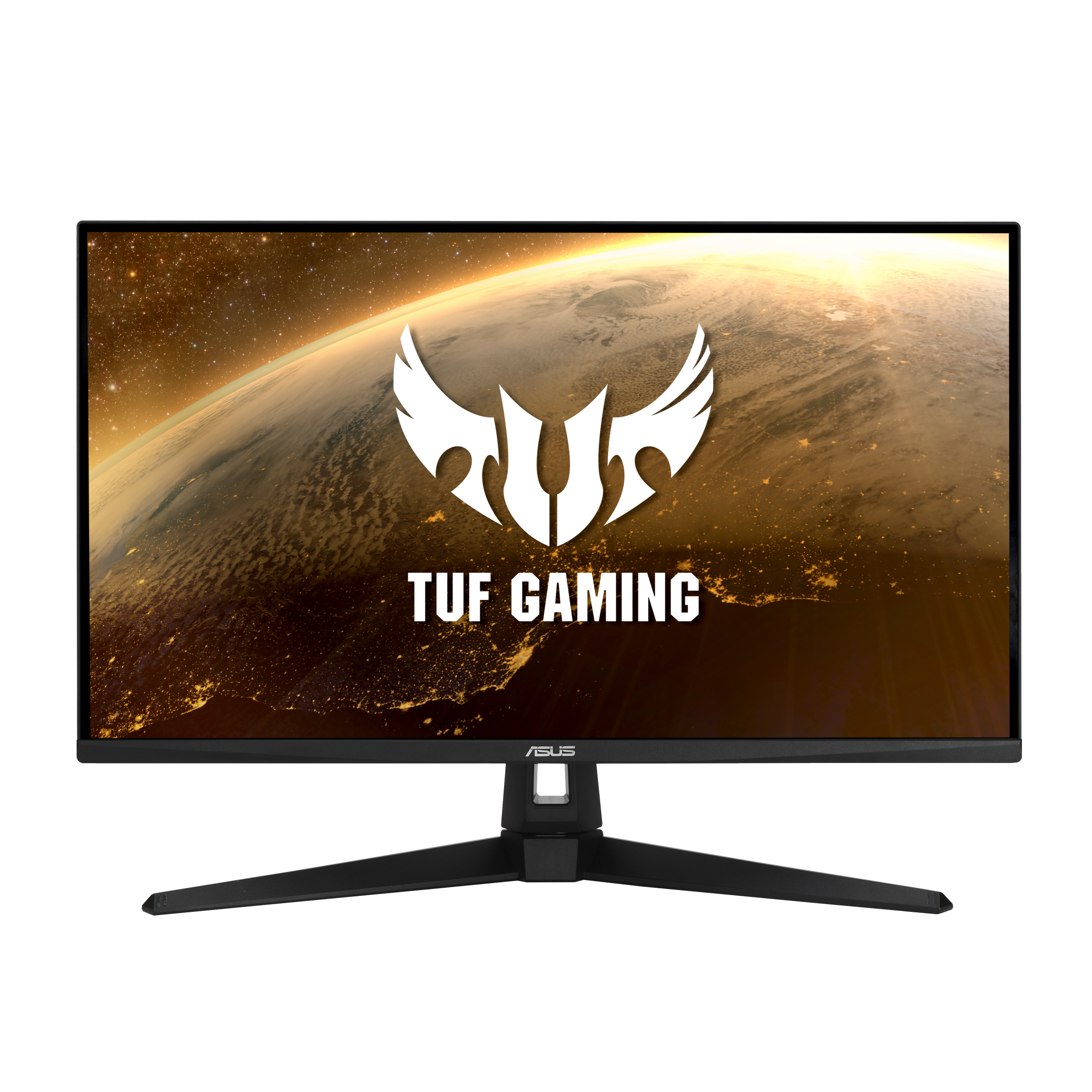 In typical ASUS fashion, they tried to make this a gaming monitor for the budget-conscious crowd that wants 4K. True, the refresh rate is only 60Hz, but you have a fast 5ms response time, as well as AMD FreeSync to help with artifacting and tearing. It's also jam-packed with every PC gaming term ASUS could find – Shadow Boost for better shadows, GamePlus for in-game crosshairs and FPS counter, GameVisual for 7 pre-set color settings, etc. I'd still suggest against using these – the benefits of using them don't outweigh the color issues they cause.
The port selection isn't particularly impressive – all you have is two HDMI 2.0 ports and a single DisplayPort 1.2 port, as well as a 3.5mm audio output. There are no USB ports, which would've been nice, but not essential.
The stand is also very basic – offering no adjustability save for a little bit of tilt.
If you're after that gaming monitor aesthetic, and want a solid IPS monitor with a decent selection of gaming features, this is a great choice. Just make sure you have a powerful graphics card capable of taking advantage of the 4K resolution.
LG 32UN550-W
LG's 32UN550-W is like the bigger brother of the 27UP850-W, minus all of the professional features such as color calibration and excellent color space coverage. You'll save a heap of money though – the 32UN550-W is roughly half the price of the 27UP850-W. If you don't care about those features and want the largest and best budget 4K monitor for as little money as possible, it's one you should certainly consider.
With the 32UN550-W you get a 32" VA panel which has an excellent contrast ratio and surprisingly good viewing angles. The peak brightness of 350 nits isn't enough for a true HDR experience, but the overall experience with the monitor is pretty good.
This is in no way a monitor made for gaming, but a 4ms response time on the fastest setting and AMD FreeSync adaptive sync make it a good choice if you want to play a casual game or two. You will only get a refresh rate of 60Hz, though.
Port selection is fairly average, with a single DisplayPort port and two HDMI ports, as well as a 3.5mm audio port. You do get a height-adjustable stand, which is a nice addition that monitor manufacturers seem to omit a tad too often recently.
All things considered, the 32UN550-W is a great 4K monitor for day-to-day use with an excellent contrast ratio and a well-rounded feature set. It's not going to impress you with anything in particular, but it's a good choice overall.
AOC U2790VQ
Last but not least, if you're in the market for a 4K monitor with bezels that are as slim as they come, the AOC U2790VQ is the perfect choice for you. It's an IPS monitor that's made for day-to-day use, and comes in with a clean design that looks beautiful on any desk.
Kicking things off with the panel, this is a 27" IPS panel with great colors and excellent viewing angles, both horizontal and vertical. There is a contrast ratio of 1000:1, and a peak brightness of 350 nits, which is pretty standard for these monitors.
AOC didn't bother catering to gamers with the U2790VQ – there is a 60Hz refresh rate, as well as a 5ms response time, but no adaptive sync in sight. While I understand Nvidia's G-Sync is hard to implement on a budget, AMD's FreeSync adaptive sync would've made for a nice inclusion. Neither is present here.
Port selection, when it comes to audio and video, is fairly standard – one DisplayPort 1.2 port, and two HDMI ports, one HDMI 1.4 and one HDMI 2.0. You don't get any USB ports, and you don't get a height-adjustable stand either – all you can adjust is the tilt. The stand is fairly minimal, though, and takes up very little space.
If you're the type of person to prioritize the aesthetics of their monitor, the AOC U2790VQ is a great choice. If not, I'd suggest you take a look at some of the other 4K monitors I mentioned above.
Wrapping Up
Overall, LG's 27UP850-W is the best budget 4K monitor, thanks to a combination of excellent sharpness, great image quality and color accuracy, and a set of features that make it a brilliant pick for productivity-focused users. Dell's S2721Q is a close runner-up, and if you want a larger screen size, Samsung's UJ59 with its 32-inch diagonal gives you more screen space.
A budget 4K monitor can be a significant boost in productivity on your desk, sometimes better than even a multi-monitor setup, and oftentimes more affordable than multiple monitors. If you're in the market for a new 4K monitor, just pick the one from the list above that ticks the most boxes for your use case.
FAQ
Is it worth getting a 4K monitor?
Yes, if your budget allows it, getting a 4K monitor is definitely worth it. A 4K resolution will allow you to display multiple windows side by side, ensuring an always-welcome boost in productivity. 
What are the disadvantages of 4K?
If you're getting a budget 4K monitor for productivity tasks and day-to-day usage, there are no disadvantages to going 4K – in terms of resolution, higher is always better.
If, however, you're looking for a gaming monitor, a 4K gaming monitor will require a lot of GPU power in order to achieve respectable frame rates at the monitor's native resolution, which you may or may not have, especially if you're on a budget. 
What screen size is best for 4K?
A screen size between 27" and 32" is generally what's recommended for a 4K monitor, though if you don't mind losing out on a bit of sharpness, you could always get a 34" monitor or larger. 
That being said, you should also consider the sharpness, usually expressed in PPI (pixels per inch). For example, a 27" 4K monitor has a sharpness of 154 PPI, whereas a 32" 4K monitor has a sharpness of 130 PPI. A high PPI means pixel density is better, so individual pixels will be harder to see.